2022
February - March 2022 Ukraine Conflict Information from ISKCON Communications
The conflict in Ukraine is an ongoing and sensitive situation. The ISKCON Communications Global team is doing its best to ensure all information we provide is accurate. 
 - How You Can Help -
As of March 10th, 2022, ISKCON Communications has updated it donations list to reflect the needs and support as they change . The following are sites that ISKCON Communications has affirmed as authorized to receive funds to help in the region.  
Ukraine | ISKCON Devotees
These donations will wire money directly to ISKCON Ukraine authorities for the purchase of foodstuffs and support of the local devotee community.
Donate here via bank transfer:
Name of Bank: FIRST UKRAINIAN INTERNATIONAL BANK,
Address of bank: ANDRIIVSKA STR. 4, 04070 KYIV
SWIFT: BIC FUIBUA2X
Beneficiary: Solianyk Kostiantyn
Personal tax code: 3165407437
* Mandatory payment purpose description: donation for the charity activities of the Hare Krishna community
USD IBAN: UA053348510000026204113989109
Intermediary bank: THE BANK OF NEW YORK MELLON One Wall Street, 8th Floor, 10286, New York, USA
SWIFT: BIC IRVTUS3N
EUR IBAN: UA693348510000026206115601096
Intermediary bank: COMMERZBANK AG, Kaiserplatz, 60261, Frankfurt am Main, Germany
SWIFT: BIC COBADEFF 
Europe | ISKCON Communications Europe
The European arm of ISKCON Communications Global team. This non-profit that will distribute funds to support relief efforts in the region. 
Donate here via bank transfer:
Bank Name: Triodos Bank
Name on Account: ISKCON Communications Europe asbl
Address of organization: 197 Ave d Auderghem, 1040 Brussels, Belgique
IBAN: BE27 5230 8129 5573
BIC / Swift: TRIOBEBB
Communication: ISKCON Relief Ukraine.
USA | ISKCON New Vrindaban
This donation is tax-exempt for those donating from the USA and will distribute funds to support relief in Ukraine and the region. 
Donate here:  tinyurl.com/2p9yphz9 
Global Chant for Peace Event
Recap of global event held on March 5th-6th, 2022 story here: https://iskconnews.org/chant-for-peace-global-initiative/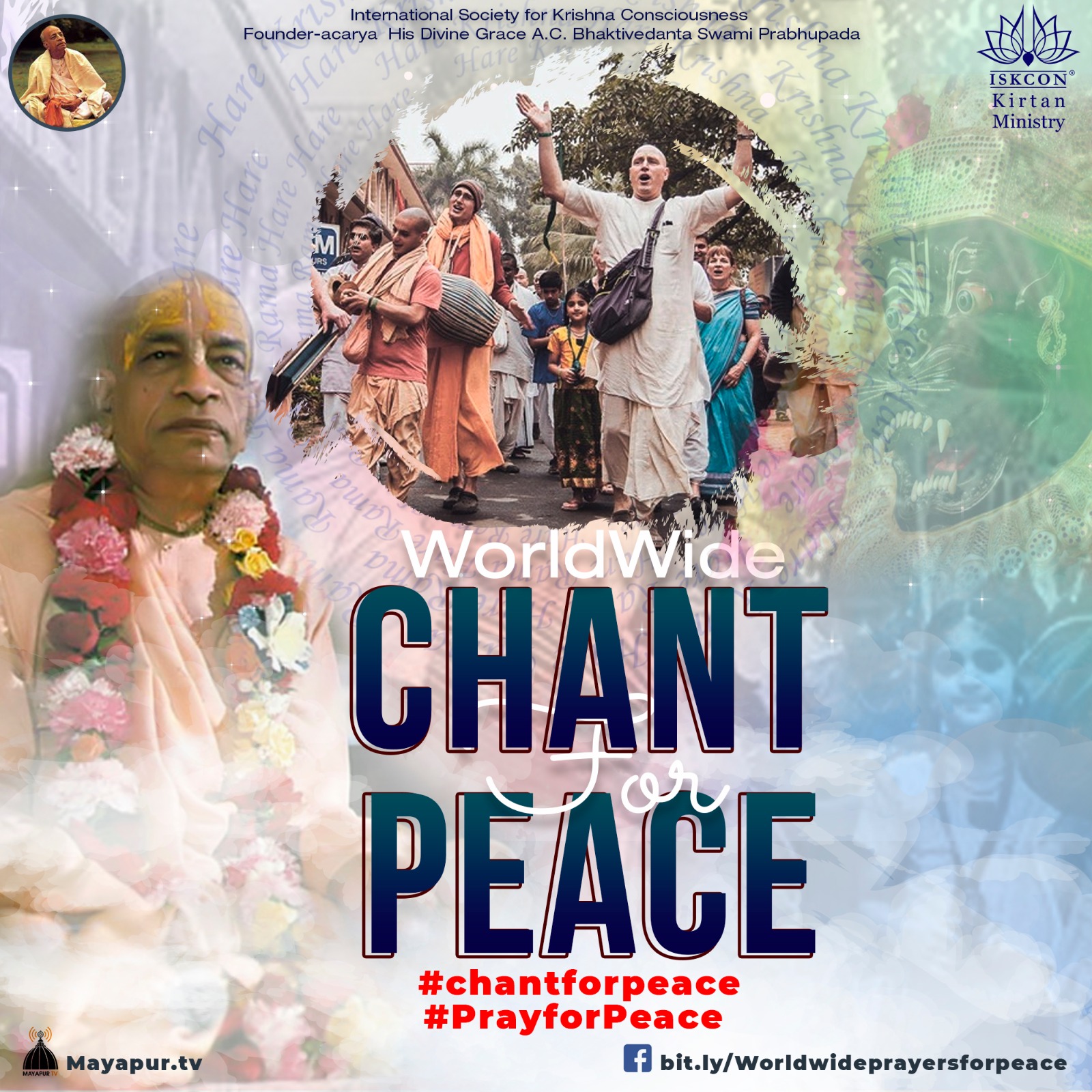 ISKCON's Official Statement on Ukraine Conflict
February 25, 2022
Statement of the International Society for Krishna Consciousness on Ukraine
ISKCON Ministry of Communications
As members of the International Society for Krishna Consciousness (ISKCON), we offer our prayers for all persons who are victims of the evolving situation in Ukraine. We earnestly pray that no more innocent people may suffer and that peace will soon return to that region.
We are especially heartbroken that thousands of devotees of Lord Krishna are living in the areas in conflict. Members of our communities live in both Ukraine and Russia and we fear that great pain is being borne by them, and their extended families and friends, both spiritual and secular. May Lord Krishna protect one and all.
The saints of our tradition teach us that as long as human society claims proprietorship over the Earth and forgets that we are all children of God, we will continue to suffer conflicts between us. This recognition of universal brotherhood and sisterhood extends to the victims on all sides of any hostility.
We earnestly pray for that day when Russians, Ukrainians, Americans, Chinese, Indians, Africans, Europeans, and all peoples will come together under the banner of affection for each other and for God. True peace, true security, and true fulfillment cannot be achieved by economic or political gains. They are found by knowing that we are all God's children and that all people, indeed all living beings, deserve our respect, protection, and affection.
Hare Krishna.
 
-------------------------------------------------------------------------------------------
 - October 2021-
Bangladesh Hindus & Religious Minorities in Crisis
Since October 13, 2021, in 30+ districts in Bangladesh:
More than 300 Hindu temples and deities have been demolished or vandalized with Hindu priests killed, Hindu women raped, Hindu houses were looted and burnt. Thousands were injured and displaced. 
Recap of Global Kirtan Protest Events World-Wide
Saturday, October 23rd, 2021
More than 100 ISKCON (International Society for Krishna Consciousness) centers organized kirtan (prayer) protests across the globe with thousands participating by peacefully chanting while holding signs pleading for protection and justice for minority groups and Hindus in Bangladesh after the last week's attacks. National media covered many of the protests, including the Times of India and CBC.
The international protest, entitled: "Global Kirtan Protest" began yesterday in Australia and New Zealand with ISKCON members and supporters marching in major cities across the countries. Protests and rallies continued around the globe through India, Africa, Europe, and ended in North America. Demonstrations and candlelight vigils in India took place in the cities of Bangalore, Vrindavan, Ahmedabad, Pune, Kolkata, Dehradun, Mayapur, Goa, and Delhi. These were followed by protests in Buenos Aires, Argentina; Durban, South Africa; Maitighar, Nepal; and Port Royal, Mauritius. In Europe protests took place, most notably in London, England more than 500 supporters gathered, chanted, and danced on both sides of the street in front of the Bangladesh High Commission. In the United States protests were held nationwide, notably, in New York City, in Times Square, and in Washington, D.C., in front of the White House, as well as in Atlanta, Philadelphia, and other locations. Meanwhile, in Canada, the major cities across the nation of Vancouver, Winnipeg, Montreal, Halifax, Ottawa, and Toronto held protests with large gatherings.
More information on the ISKCON News article
How can you help? 
Sign the global petition: https://www.change.org/ProtectBangladeshHindus
Urge your local government to condemn the violence by finding your region below and sending them an email through the links/templates provided 
Share your concerns on social media
By region
U.S.A. | Please click here to fill out a short form to send to Congress: https://www.votervoice.net/mobile/HAF/Campaigns/89045/Respond
London, U.K.  | Contact your local MP (using this template) urging them to contact the Foreign Secretary who in turn should approach the High Commissioner at the Bangladeshi embassy in London. We ask the Bangladeshi government to protect its religious minorities. Donate for ISKCON Bangladesh through the Bhaktivedanta Manor: Donate to ISKCON Bangladesh  
Resources and Information on ISKCON's Bangladesh Global Kirtan Protest Event, October 23rd, 2021 
In an effort to bring international awareness and pressure on the Bangladesh government to take serious steps to protect religious minorities, ISKCON is teaming up with other Hindu groups across the globe to do kirtan protests. 
The global event took place on Saturday, October 23rd, 2021  with kirtan protests outside of temples and in high visibility areas across the world that afternoon.
For more information about the crisis:  ISKCON Official Report on Bangladesh Attacks 
Sign the official ISKCON petition here: https://www.change.org/ProtectBangladeshHindus
#ISKCONforBangladesh #GlobalKirtanProtest
Running list of global protest events 
Here was the official poster: